---
Sorry but our weekly Session is closed at the moment due to Covid 19
---
The Celtic Room is for anyone who loves to play traditional Irish Music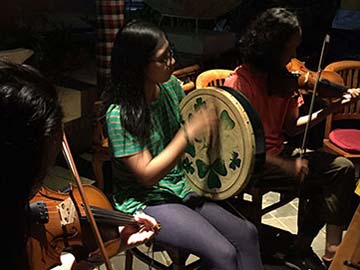 On this website you will find:
How to contact Irish musicians across Indonesia.
Music sessions where you can go to play traditional Irish music.
A list of the tunes commonly played in Indonesia so you can come and play with us.
The music notation, abc text and sound clips for our tunes to help you learn to play them.
Files that can be downloaded to your computer, tablet or smartphone.
Instructions on how to use abc music notation so you can collect tunes from all over the world and, if you wish to, you can edit them on your computer, tablet or smartphone
Some tips on how traditional Irish music is played
Some links to other Sources on the Internet.
You can find us on Facebook here: https://www.facebook.com/pg/CelticRoom
There you can find videos such as this one: https://www.facebook.com/CelticRoom/videos/1368896606467093/
---
Our Tunes
For a complete list of our Tunes go here.....
---